** PLEASE FORWAD & CROSS-POST **
An Historic End to Greyhound Racing in Massachusetts!
Dear Friends,
When the last dogs crossed the finish line at Raynham Park on Saturday night, it was the end of live greyhound racing in Massachusetts forever! This historic event was made possible by you and your support of GREY2K USA. Congratulations to all the wonderful volunteers, donors and well-wishers who made this long held dream a reality.
After ten years spent educating the public about the cruelty of dog racing in Massachusetts, greyhound advocates finally won freedom for the greyhounds. Cartoonist Pudge O'Mahoney captured the spirit of this historic campaign.

O'Mahoney/Patriot Ledger
Now it is time to bring the Massachusetts Miracle to all the remaining dog racing states. The greyhounds in Alabama, Arkansas, Arizona, Florida, Iowa, Rhode Island, Texas and West Virginia are waiting to be released from their cages, and together, we can bring them home.
In the New Year, we will redouble our efforts to end the cruelty of dog racing everywhere. Please join us in this New Year's Resolution, and make an immediate donation to support our ongoing campaigns. Our work continues solely because of your support, and we are limited only by our resources. Contributions of $10, $100 or even $1000 will directly help end dog racing in states across the country.
Let's make 2010 another "greyt" year for the dogs.
For the greyhounds,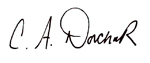 Christine A. Dorchak, Esq.
President
P.S. A new supply of our first-ever Greyhound Advocates calendars have just arrived. Inside, you will find the history of our efforts to date accompanied by the photographs and stories of dogs rescued from closing tracks and breeding farms nationwide. Get yours today!

Gordon, who raced at both Raynham & Wonderland
(Photo courtesy of
Emily McElfresh, Dracut)