Great Holiday Gifts That Help Greyhounds!

GREY2K USAís annual newsletter, the Advocate, is headed for mailboxes now, but we invite you to take an early look. Inside, you will read about the stunning new wave of greyhound advocacy sweeping the United States. Since 2004, twenty tracks have ended live racing, cutting the number of states with dog racing in half!
To celebrate these many victories, GREY2K USA is offering some very special gifts. All proceeds help fund our continuing campaign to end greyhound racing nationwide. Look below to see our new limited edition ornaments, Holiday Hound cards and 14-month Greyhound Advocates Calendar. And donít forget to use Gracie postage stamps on all your greetings this year!
If you'd prefer to send a donation as a gift, please sign up for our monthly donation program or nominate a friend or family member for an honorary or memorial gift.
Last but not least, we will give you a gift with every donation of $50 or more. Check out our new GREY2K USA notepad with matching stickers and sparkling blue pen. This is just our way of saying thank you for all your help and support this year!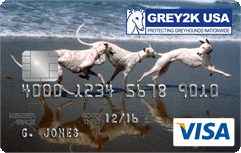 Happy Holidays!
P.S.: Don't forget that you can use your GREY2K USA credit card, available in five designs, for all of your holiday shopping. GREY2K USA receives a $50 donation for each activated card, and all subsequent purchases generate a "greyt" campaign gift for the greyhounds! Even in these tough economic times, you can still be a hero for the dogs.
Click on any item below to order yours today or visit our Shop page to see all of our available gifts, including T-shirts, custom artwork and more!