I am thrilled to let you know that Brooklyn, the dog who inspired the #CloseTheCanidrome campaign in 2012 has been flown to safety in the United States. He landed moments ago, at 4:15 ET, and is now in the care of the National Greyhound Adoption Program. That's right, this lucky dog, now ten years old, has finally left Macau on his flight to freedom! He will be coming home to me very soon.
When I first saw Brooklyn, he was among 600 dogs living in prison-like conditions. This beautiful dog watched as 30 of his fellow hounds were killed each month. There was no adoption program at what was truly the worst dog track in the world. Any injured or un-winning dogs were simply destroyed and replaced with new dogs. But our #RescueBrooklyn campaign made waves around the world and he was spared.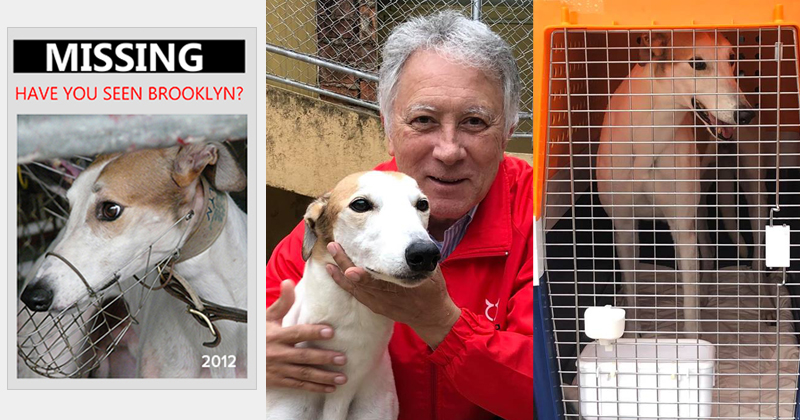 The #RescueBrooklyn campaign poster; Brooklyn with Albano Martins of ANIMA before leaving Macau; Brooklyn departs the Canidrome for the United States.
Now, following years of advocacy by GREY2K USA Worldwide working with ANIMA Macau and Pet Levrieri, over 500 surviving greyhounds are now being airlifted to safety in the United States, Europe and the United Kingdom. Nearly 200 dogs have come to the United States so far and the first dogs have just arrived in Italy. We owe a great debt of gratitude to volunteer Caryn Wood of Arizona and board member Darren Rigg of the Greyhound Adoption Center for working night and day over the past months to ensure the safe transport of greyhounds from Macau to groups all across the United States.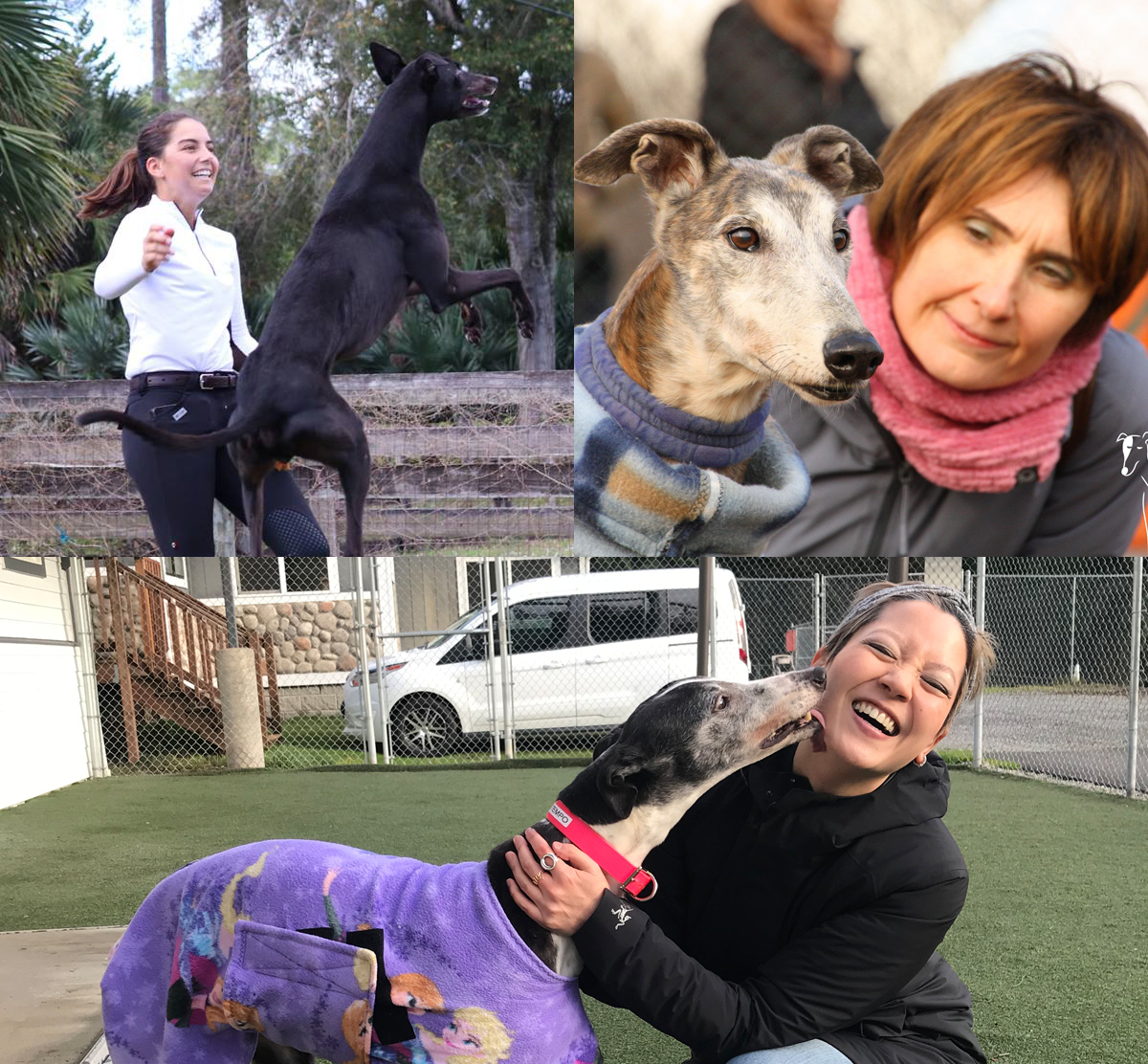 Maya Stratemann of Elite Greyhound Adoptions in Florida, Stefania Traini of Pet Levrieri in Italy and adopter Olivia Chen with Imogen of Greyhound Pets Inc. are helping greyhounds from Macau begin new lives.
We also offer very special thanks to our friend and board member, Albano Martins, who has dedicated the last 7 years of his life to saving these dogs. We heartily embrace Stefania and Massimo Traini who have led the public outreach campaign and will be the first point of contact for all dogs to be adopted in Europe and the United Kingdom.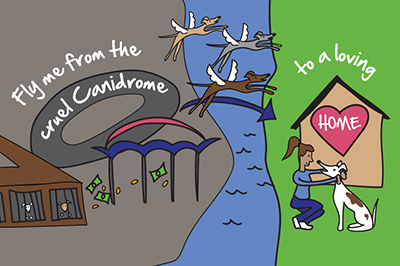 This has truly been a team effort among dedicated rescuers around the world! If you would like to contribute to the care of the Canidrome dogs, please make a donation to our dedicated fund now.
GREY2K USA Worldwide and the GREY2K USA Education Fund have been sending grants to every adoption group worldwide that receives Canidrome dogs. We will continue to sponsor each dog as long as funding lasts, so please be as generous as you can.
Stay tuned for more news about Brooklyn's arrival with me in the United States!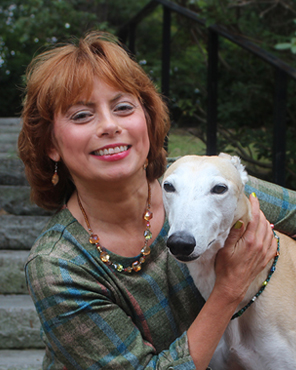 Christine A. Dorchak, Esq.
President
GREY2K USA Worldwide
©GREY2K USA Worldwide. All rights reserved. GREY2K USA Worldwide is a non-profit 501(c)4 advocacy organization located at 7 Central Street, Arlington, Massachusetts 02476. 100% of donations support our mission to end dog racing. We are grateful for personal and corporate contributions. Because GREY2K USA lobbies for greyhound legislation, contributions are not tax deductible.


Privacy Notice: It is against our policy to share, rent, sell or make our supporters' or volunteers' names or other information available to third parties. Unless disclosure is required by law, we can assure you that your personal information will be kept confidentially by this organization.
For more information please contact 781-488-3526 or visit GREY2KUSA.org.