If HB 1095 had passed, Mile High Greyhound Park might have re-opened and the cruelty of dog racing would have recommenced in Colorado. Thanks to Charmaine this will not happen and we will remain vigilant to ensure this harmful proposal is not revived.



all racing states, past and present, for dangerous measures like these, designed to prop up a dying industry.



At GREY2K USA, we are committed to closing dog tracks nationwide. Donations are always needed for this important work, but another way you can help is by using our newly-designed GREY2K USA Visa card, offered through the CardPartner charity program.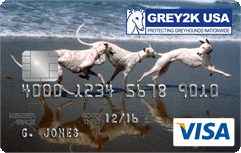 There are five different designs to choose from, and every credit card purchase generates a new donation for the greyhounds. (The image above here was provided by one of our valued supporters, Maureen Lucas, of North Carolina—thank you, Maureen!)


You may open a new account or even transfer balances from a current account to obtain a GREY2K USA card. Please sign up today!