It's bad enough that there are 64 dog tracks in Australia, but now another one is in the works. In October 2019, the Queensland government announced its support for the return of dog racing to Ipswich and a new $39 million dollar facility. Construction is expected to start in 2022 with inaugural races to be held by the end of 2023.
Sixty-nine dogs were killed and more than 1,200 injured at Qld's six tracks in 2019. Four-year-old Indiana Princess was the first to die in 2020. She broke her leg and was destroyed on New Year's Day.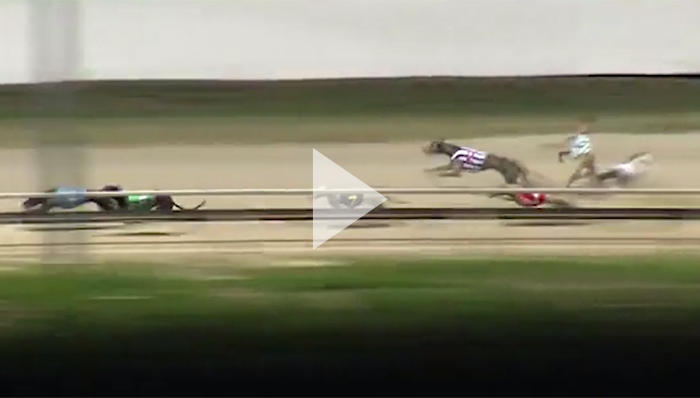 Indiana Princess broke her leg during this catastrophic collision
Greyhounds in Australia are under constant threat. An internal report revealed that the industry is responsible for the deaths of as many as 17,000 healthy greyhounds each year. The "Special Commission of Inquiry into the Greyhound Racing Industry," known as the McHugh Report, found that at least 50% of greyhound puppies whelped were deliberately killed because they were not fast enough. A new track will only grow this cruel market and put greater pressures on underfunded, volunteer rescue organizations.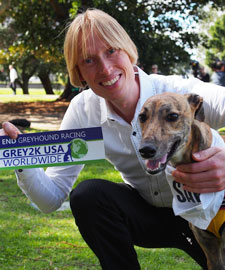 Jeroen van Kernebeek
Australian Director
GREY2K USA Worldwide

Save greyhounds by visiting smile.amazon.com and selecting the GREY2K USA Education Fund as the charity you support.
©GREY2K USA Worldwide. All rights reserved. GREY2K USA Worldwide is a non-profit 501(c)4 advocacy organization located at 7 Central Street, Arlington, Massachusetts 02476. 100% of donations support our mission to end dog racing. We are grateful for personal and corporate contributions. Because GREY2K USA lobbies for greyhound legislation, contributions are not tax deductible.

For more information please contact 781-488-3526 or visit GREY2KUSA.org.

Florida: CH35695. A COPY OF OUR OFFICIAL REGISTRATION AND FINANCIAL INFORMATION MAY BE OBTAINED FROM THE DIVISION OF CONSUMER SERVICES BY CALLING TOLL-FREE WITHIN THE STATE, 1-800-HELPFLA, OR VIA THE INTERNET AT WWW.FLORIDACONSUMERHELP.COM. Illinois: Contracts and reports regarding GREY2K USA Worldwide are on file with the Illinois Attorney General. Maryland: Documents and information submitted under the Maryland Solicitations Act are available, for the cost of copies and postage, from the Maryland Secretary of State, State House, Annapolis, MD 21401 or by calling 800-825-4510. Mississippi: The official registration and financial information of GREY2K USA Worldwide may be obtained from the Mississippi Secretary of State's office by calling 1-888-236-6167 (in MS) or 1-601-359-1350. New Jersey: INFORMATION FILED WITH THE ATTORNEY GENERAL CONCERNING THIS CHARITABLE SOLICITATION AND THE PERCENTAGE OF CONTRIBUTIONS RECEIVED DURING THE LAST REPORTING PERIOD BY GREY2K USA WORLDWIDE THAT WERE DEDICATED TO THE CHARITABLE PURPOSE MAY BE OBTAINED FROM THE ATTORNEY GENERAL OF THE STATE OF NEW JERSEY BY CALLING 973-504-6215 AND IS AVAILABLE ON THE INTERNET AT HTTP://WWW.STATE.NJ.US/LPS/CA/CHARFRM.HTM. New York: Upon request, from the Attorney General's Charities Bureau, 28 Liberty Street, New York, NY 10005, 1-212-416-8686 or www.charitiesnys.com. North Carolina: Financial information about this organization and a copy of its license are available from the State Solicitation Licensing Branch at 1-888-830-4989 (in NC) or 919-807-2214. Pennsylvania: The official registration and financial information of GREY2K USA Worldwide may be obtained from the Pennsylvania Department of State by calling toll-free, within Pennsylvania, 1-800-732-0999, or 1-717-783-1720. Virginia: A financial statement is available from the Office of Charitable and Regulatory Programs, P.O. Box 1163, Richmond, VA 23218. Washington: GREY2K USA Worldwide's financial information may be obtained from the Secretary of State at 1-800-332-4483 or 360-725-0378. West Virginia: West Virginia residents may obtain a summary of the registration and financial documents from the Secretary of State, State Capitol, Charleston, West Virginia 25305. REGISTRATION IN THE ABOVE STATES DOES NOT IMPLY ENDORSEMENT, APPROVAL, OR RECOMMENDATION BY THE STATE.