PLEASE FORWARD AND CROSSPOST TO ALL LISTS
Only 3 Days Left to Order Mother's Day Flowers for the Greyhounds!
Friends:
Mother's Day is Sunday and this year you can be a big hero for the greyhounds and surprise your mom with a special present at the same time! Just order a Mother's Day gift online through our popular iGiveCharity Mall, and you will automatically generate a $5 gift, plus a percentage-of-sale rebate to GREY2K USA.
FTD, ProFlowers and Godiva are among the 700 brand name companies to choose from.
Yes! I would like to help GREY2K USA by shopping in the Charity Mall!
Donating to GREY2K USA in this way won't cost you a thing and will make Mother's Day a breeze! You can also shop for books, CDs, fashion, electronics, food and more—from stores such as Barnes & Noble, JCPenny, Ann Taylor, Mrs. Fields cookies, Petco, PETsMART, Sears, BestBuy and even the Disney Store!
Click here to see the full store listing.
We also offer special gifts such as greyhound necklaces and pins, chocolates, dolls and artwork and stationery directly from the GREY2K USA web site. Click here to visit our shopping page. Call us at 1-866-2GREY2K for same-day shipping.
Thank you on behalf of the greyhounds and Happy Mother's Day!
For the greyhounds,


Christine Dorchak and Carey Theil
GREY2K USA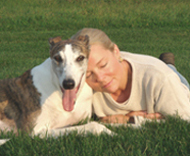 Apache & Catherine, courtesy of Catherine Blake