Thanks to you and nearly 400,000 people who signed our international #CloseTheCanidrome petition and joined together in a worldwide candlelight vigil, China's only legal dog track will run its last race on July 21! This means the killing will stop. The suffering will end and 650 greyhounds will be saved.​
Your help is needed now to fund the safe release and transport of these lucky hounds to waiting adoption groups. Please make a donation today and receive a campaign t-shirt and bumper sticker. For a donation of $250 or more, we will also send you a signed and numbered "Canidrome dogs fly free" mounted poster by artist Danielle Festa. These special gifts are our way of saying thanks for your support of this lifesaving campaign. ​
For decades, and because the Canidrome never had an adoption program, every dog that raced there was doomed to die. Each year, 400 greyhounds either collapsed from their injuries or were methodically destroyed and replaced with younger, faster dogs once they stopped winning. In fact, no greyhound ever got out alive.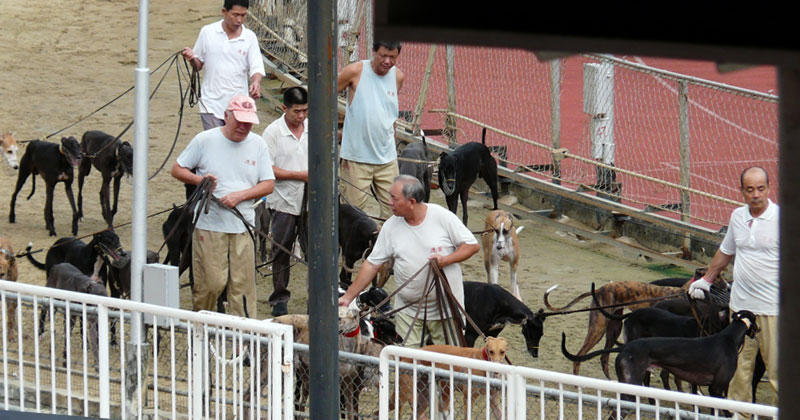 Greyhounds at the Canidrome dog track.
We are proud to be working with ANIMA Macau and Pet Levrieri of Italy as well as 50 rescue organizations around the world to save the Canidrome dogs. If you represent an adoption group anywhere in the world where there are well-established companion animal protection laws, please contact us at savemacaugreyhounds@gmail.com or get in direct touch with one of our team leaders:​

© GREY2K USA Worldwide. All rights reserved.
GREY2K USA Worldwide is a non-profit 501(c)4 advocacy organization located at 7 Central Street, Arlington, Massachusetts 02476. 100% of donations support our mission to end dog racing. We are grateful for personal and corporate contributions. Because GREY2K USA lobbies for greyhound legislation, contributions are not tax deductible.

Privacy Notice: It is against our policy to share, rent, sell or make our supporters' or volunteers' names or other information available to third parties. Unless disclosure is required by law, we can assure you that your personal information will be kept confidentially by this organization.
For more information please contact 781-488-3526 or visit GREY2KUSA.org