** PLEASE FORWARD WIDELY **
Act Now to Help End Greyhound Racing in Rhode Island!
Dear Friends,
Your immediate action is needed to sustain Governor Carcieri's veto of live racing at Twin River. There are 1,200 greyhounds waiting for our help!
As reported previously, Rhode Island's only dog track declared bankruptcy and announced the voluntary end of dog racing as of August 8. Responding to the appeals of greyhound breeders, state lawmakers then passed a bill to mandate that live racing continue, which Governor Carcieri immediately vetoed.
Now, these same greyhound breeders are asking lawmakers for an override—something we must stop. Let's make sure greyhound racing ends in New England for good.
Click here to read about Saturday's successful rally at the Capitol in Providence and then please contact your lawmakers right away.
Please e-mail and call your state senator and your state representative today and ask them to REJECT any proposal for an override of Governor Carcieri's veto of S 286, Substitute B. Tell them that Rhode Island is the last New England state in which dog racing is legal and operational, and it is time for this cruelty to end.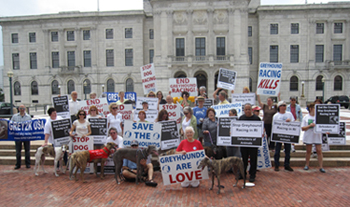 Rally at the Capitol, July 18, 2009
To identify your lawmakers, click here. Remember to contact your state "Senator in General Assembly" and your "Representative in General Assembly," not your federal lawmakers.
**If you do not live in the state, please e-mail Senate President Teresa Paiva Weed at sen-paivaweed@rilin.state.ri.us and House Speaker William J. Murphy at rep-murphy@rilin.state.ri.us and urge them to support a permanent end to dog racing in the state.**
To read our letter sent to lawmakers today, click here. Several local and national groups, including Defenders of Animals, The Humane Society of the United States and the American Society for the Prevention of Cruelty to Animals have signed on to this campaign.
Please act now. Use the Forward link below to encourage others to contact their lawmakers as well. The greyhounds need all of our voices this week.
For the greyhounds,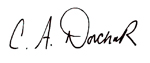 Christine A. Dorchak, Esq.
President