We Have the Plan to End Dog Racing Nationwide
Dear Friends,

We have spent the summer creating a new national plan to end dog racing, and feel more optimistic than ever before that dog racing may soon end in several states, including Florida and Iowa.
The Sunshine State is home to a majority of all dog tracks nationwide, 13, and more greyhounds suffer in Florida than anywhere else. But happily, hope is on the horizon. Just this morning, yet another racetrack publicly announced that it is losing money on greyhound racing and would prefer to see it end. This is now the reality that most Florida dog tracks face: their poker rooms and other gambling opportunities remain popular, but they are losing money on live dog racing.
Unfortunately, state law still requires that live racing continue in order for dog tracks to offer other, more lucrative forms of betting. This coupling of live racing and casino-type gambling is something we will work to change in the next legislative session
This harmful linkage also exists in Iowa, where racetracks have slot machine gambling, but are required by law to continue racing greyhounds at a loss. Earlier this year, lawmakers considered a bill to allow Iowa racetracks to end dog racing, but it did not pass.
Iím sure it wonít surprise you that greyhound breeders have given hundreds of thousands of dollars to Iowa political candidates, including some of the same candidates who voted against sensible legislation this year to allow dog racing to end. In fact, we recently released a report on campaign contributions by Iowa greyhound breeders and their lobbyists.
Next session, in both Florida and Iowa, we would like to bring new bills to make sure that greyhounds receive the help they so desperately need. But your support is essential for our campaigns to succeed. Wonít you please help?
Please make a donation today. If everyone who receives this e-mail contributes just $25, we will have the necessary funds to keep closing down dog tracks nationwide. Letís go team!
For the greyhounds,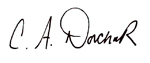 Christine A. Dorchak, Esq.
President

P.S. You can also help by downloading our new GREY2K USA poster. Print it out and hang it up for all to see!