Meet the Dogs of Summer!

Thanks to everyone who submitted photographs of their Best Friends for our summer photo contest. The winners are ….
Sheryl Matthys of New York
Jerry Tucker of Arizona
Danielle Aseff of Georgia
Karen Joncas of New Jersey
Judith Thourot of New Jersey
Through September 30, their beautiful dogs will be featured on the GREY2K USA credit card!
Apply for a GREY2K USA Visa card now and generate an immediate $50 gift for the greyhounds. A percentage of all retail purchases will also be donated right back to GREY2K USA each month.
Our special greyhound credit card is made available through the CardPartner charity program. You may open a new account –or even transfer balances from a current account – in order to obtain a GREY2K USA card. There is no annual fee and a low interest rate. Click here to learn more.
We will offer new designs each season, but don't wait to start using yours now. Thousands of dollars have been generated for the greyhounds thanks to this wonderful program.
For the greyhounds,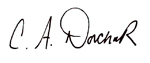 Christine A. Dorchak, Esq.
President
P.S. We received many wonderful photos. To see some of these click here.
New Designs Available to Order Now! Just click on a card below to get started!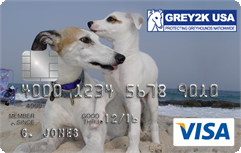 Buffet and Shiraz
by Sheryl Matthys of NY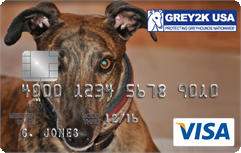 Mahalo by Jerry Tucker of AZ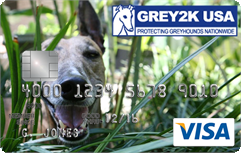 Bina by Danielle Aseff of GA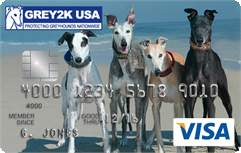 Gidget, Ruthie, Ellie, and Secret
by Karen Joncas of NJ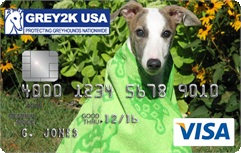 Claire by Judith Thourot of NJ