Hundreds of greyhound adoption groups have been formed across the world in order to find homes for dogs that have been discarded by the racing industry. As part of our continuing series, we would like to spotlight the wonderful work of Lévriers en Détresse.
Dear Friends,

Just as the cruelty of greyhound racing knows no borders, advocacy has no limits! Today, I would like to introduce you to a wonderful group in France working to create a permanent sanctuary for greyhounds.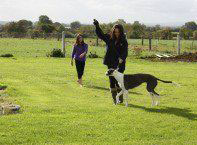 Thankfully, there is no commercial dog racing in L'Hexagone, but the volunteers of Lévriers en Détresse (Dogs in Need) work to rescue greyhounds discarded by tracks in other countries.


Madame Catherine Madry, the founder of Dogs in Distress, has been fighting for greyhounds for over eleven years and has successfully helped place many greyhounds, principally from the UK and Spain. But at this time, she is asking for help to establish a permanent adoption center in her own country, something which would demonstrably increase her ability to help greyhounds:
We really want to create a refuge, a real greyhound adoption center so that we will be able to rehome more greyhounds from the UK and Spain, and fight against the racing industry more efficiently.

To be brought to light, our project needs your help. Worldwide publicity for our project is the key.

As greyhounds lovers we request your help. Please make a donation so our dream of a greyhound sanctuary will come true!

Catherine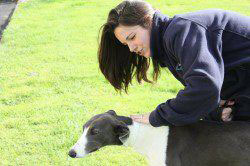 Together, we can expand the safety net for greyhounds worldwide by supporting Lévriers en Détresse!

To see some of the dogs available for adoption, click here.

To meet Catherine and her wonderful volunteers, click here.

To make a contribution for the adoption center, please click here.

Please help my fellow greyhounds and the good people across the globe who are working so hard to bring them to safety.



Resident Greyhound, GREY2K USA
© GREY2K USA. All rights reserved.

GREY2K USA is a national non-profit 501(c)4 organization dedicated to protecting greyhounds and ending the killing and cruelty of dog racing. Personal and corporate contributions are acceptable, and there are no limits on how much one individual can contribute. Because GREY2K USA actively lobbies for greyhound protection, contributions are not tax deductible.


For more information, please contact 617-666-3526 or visit www.GREY2KUSA.org.