We are pleased to announce the names of the dogs who will appear in our new Greyhound Freedom Calendar!
This year, handsome Albert of our home state of Massachusetts is the cover dog. Aaron and Otto, rescued from Spain and now living in France, will appear on the back and gorgeous Gracie of Washington graces the inside front cover.
Here are the dogs chosen to represent specific months throughout the year:
Avory and Bowie – Shelley Graff, Illinois, USA
Bobby Jo – Phyllis and Sam Shapiro, Pennsylvania, USA
Brick – Whitney Marshall, Michigan, USA
Dapper Dan and Fitzie – Nikki McClain, Georgia, USA
Darcy, Phoenix and Silky – Judy Zatonski, Warwickshire, UK
Eli and Herstal – Natalie Sinn, Minnesota, USA
Flaco – Javiera Guiraldes, Santiago, Chile
Hansel and Greg – Carolin Darmanin, Victoria, Australia
Holly – Christine Ross, Florida, USA
Jesse and Fergi – Darlene Hnatyshyn, Winnipeg, Canada
Lena – Emily Lambert, California, USA
Lexi – Susan Nance, British Columbia, Canada
Lili – Robin Reich, Washington, USA
Lola – Tracy Jakuc, Michigan, USA
Loup – Anne Prost and Christine Josselin, Gironde, France
Mickey – Jade Portelli, Toronto, Canada
Power – Victoria Celia and Orlando Salvato, Pennsylvania, USA
Steffi– Ann Morten, Canterbury, New Zealand
Sweet P – John Sekol, Nevada, USA
Warrick – Judy Zatonski, Warwickshire, UK
WillieNelson and Tasha – Ann Adams, Pennsylvania, USA
Zosie – Judy Zatonski, Warwickshire, UK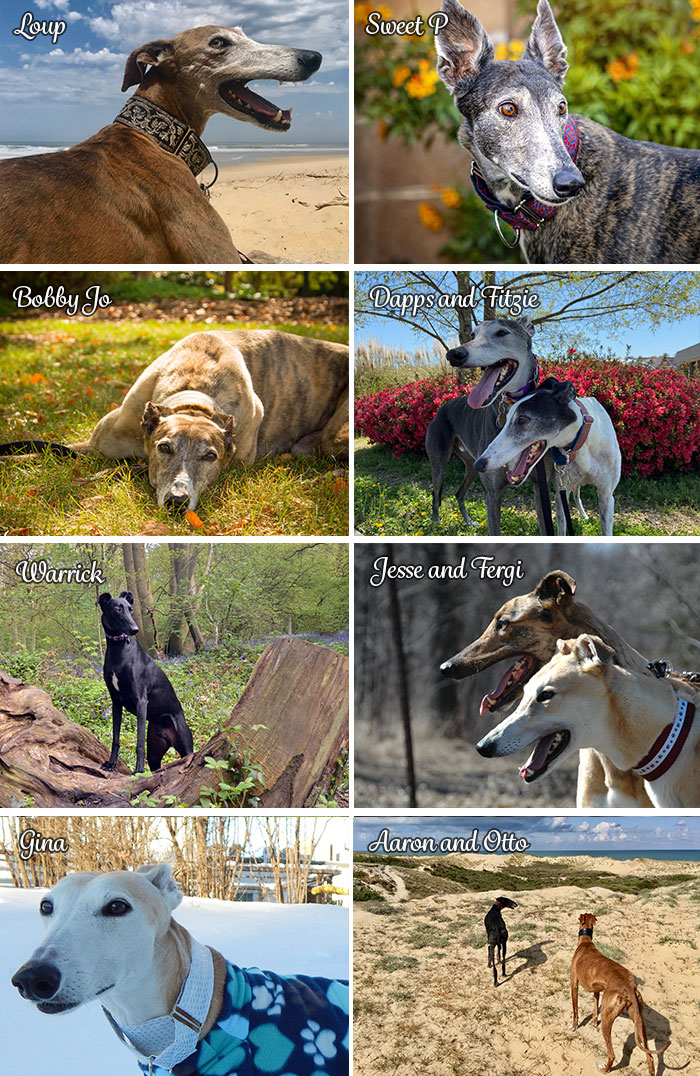 Christine A. Dorchak, Esq.
President
GREY2K USA Worldwide
P.S. Please sign our new petition to end dog racing worldwide! Each signature generates an email to the leaders of the seven countries in which dog racing is still legal. Thank you!
©GREY2K USA Worldwide. All rights reserved. GREY2K USA Worldwide is a non-profit 501(c)4 advocacy organization located at 7 Central Street, Arlington, Massachusetts 02476. 100% of donations support our mission to end dog racing. We are grateful for personal and corporate contributions. Because GREY2K USA lobbies for greyhound legislation, contributions are not tax deductible.

For more information please contact 781-488-3526 or visit GREY2KUSA.org.

Florida: A COPY OF THE OFFICIAL REGISTRATION AND FINANCIAL INFORMATION MAY BE OBTAINED FROM THE DIVISION OF CONSUMER AFFAIRS BY CALLING TOLL-FREE, WITHIN THE STATE, 1-800-435-7352 (800-HELP-FLA), OR VISITING www.FloridaConsumerHelp.com. Florida registration #CH35695. Illinois: Contracts and reports regarding GREY2K USA Worldwide are on file with the Illinois Attorney General. Maryland: Documents and information submitted under the Maryland Solicitations Act are available, for the cost of copies and postage, from the Maryland Secretary of State, State House, Annapolis, MD 21401 or by calling 800-825-4510. Mississippi: The official registration and financial information of GREY2K USA Worldwide may be obtained from the Mississippi Secretary of State's office by calling 1-888-236-6167 (in MS) or 1-601-359-1350. New Jersey: INFORMATION FILED WITH THE ATTORNEY GENERAL CONCERNING THIS CHARITABLE SOLICITATION AND THE PERCENTAGE OF CONTRIBUTIONS RECEIVED DURING THE LAST REPORTING PERIOD BY GREY2K USA WORLDWIDE THAT WERE DEDICATED TO THE CHARITABLE PURPOSE MAY BE OBTAINED FROM THE ATTORNEY GENERAL OF THE STATE OF NEW JERSEY BY CALLING 973-504-6215 AND IS AVAILABLE ON THE INTERNET AT www.state.nj.us/lps/ca/charfrm.htm. New York: Upon request, a copy of GREY2K USA Worldwide's last annual report is available from the Attorney General's Charities Bureau, 28 Liberty Street, New York, NY 10005, 1-212-416-8686 or www.charitiesnys.com. North Carolina: Financial information about this organization and a copy of its license are available from the State Solicitation Licensing Branch at 919-814-5400. Pennsylvania: The official registration and financial information of GREY2K USA Worldwide may be obtained from the Pennsylvania Department of State by calling toll-free, within Pennsylvania, 1-800-732-0999, or 1-717-783-1720. Virginia: A financial statement is available from the Office of Charitable and Regulatory Programs, P.O. Box 1163, Richmond, VA 23218. Washington: GREY2K USA Worldwide's financial information may be obtained from the Secretary of State at 1-800-332-4483 or 360-725-0378. West Virginia: West Virginia residents may obtain a summary of the registration and financial documents from the Secretary of State, State Capitol, Charleston, West Virginia 25305. REGISTRATION IN THE ABOVE STATES DOES NOT IMPLY ENDORSEMENT, APPROVAL, OR RECOMMENDATION BY THE STATE.