** PLEASE FORWARD & CROSS-POST **
Commemorate Track Closures with our
New Greyhound Advocates Calendar!
Dear Friends,
Hot off the presses, the first ever Greyhound Advocates Calendar has arrived! Our calendar starts right away, and covers fourteen months from November 2009 to December 2010.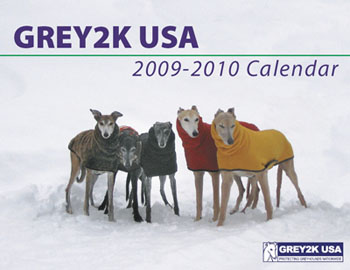 The GREY2K USA 2009 - 2010 Advocates Calendar
Get one now and you will also read about the many victories accomplished for the greyhounds since GREY2K USA's formation in 2001. Even better, you will meet the many wonderful dogs saved as a result.
In the last five years alone, 17 tracks have closed for live racing from the West Coast to the East, North and South:
Apache Greyhound Park (AZ), Multnomah Greyhound Park (OR), Plainfield Greyhound Park (CT), Geneva Lakes (WI), Shoreline Star (CT), Cloverleaf (CO), Jacksonville Kennel Club (FL),Tampa Greyhound Park (FL), Wichita Greyhound Park (KS), Corpus Christi (TX), The Woodlands (KS), Hinsdale (NH), Mile High (C0), Belmont (NH), Seabrook (NH), Wonderland (MA) and Valley Park (TX).
Phoenix Greyhound Park (AZ) and Raynham (MA) will also close in December and we have just received word that Dairyland Greyhound Park (WI) intends to suspend dog racing as well. Stay tuned!
Each month we feature two special dogs, like Niles, who raced in Florida and was adopted through the National Greyhound Adoption Program of Philadelphia; and Diana, rescued by Jackie Brantley of Greyhounds Galore in Georgia.
Please click here to get your calendars now!
For the greyhounds,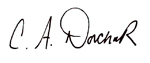 Christine A. Dorchak, Esq.
President
P.S. Thanks to everyone who submitted photos for the calendar!