** PLEASE FORWARD & CROSS-POST **
New Injury Reports Expose Cruelty of Dog Racing
Dear Friends,
GREY2K USA is working harder than ever to document the cruelty of dog racing.
Since June we have issued injury reports for dogs racing in Arizona, Iowa, Texas, and just out today, Wisconsin. These reports show that as long as dog racing continues, our gentle friends will suffer broken legs, head trauma, paralysis, seizures and even death in the grasp of this cruel industry.
Additionally, working with paralegals, law students and our wonderful office interns, we have begun issuing state-by-state histories of dog racing. We would like to thank Suzanne Bradley and Rebecca Gantt both of the University of Virginia, Colleen Holiday of Ohio, Vicki Horwitz of Boston College, Amy Rubin and Gwendolyn Stowe both of Massachusetts and Christina Totino of George Washington University for their many months of research and writing. Please see our new History page to read their reports.
A fun way to support greyhound advocacy is to order one of our brand new Greyhound Advocates calendars. Every month we feature two special dogs, like Zeus, who raced at Twin River (Rhode Island) and Mr. Puppy rescued from Mile High Greyhound Park (Colorado). Week by week, we also tell the story of track closings and note other milestones in our historic campaign to end dog racing nationwide.
This is a one-of-kind calendar and we hope you will consider ordering one for yourself and one for every greyhound lover you know.
Since our formation in 2001, seventeen tracks have ended live racing (three more are pending by year's end), and we will not rest until the remaining twenty-four tracks close as well. Count on us to be there for the greyhounds.
Please click here to get your calendars now!
For the greyhounds,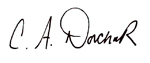 Christine A. Dorchak, Esq.
President

"I sat and cried today when the calendars arrived. What a wonderful project. The love people feel for their Greyhounds just jumps off the pages. It chokes me up that my girls are part of it, thanks to you. I hope people will feel that 'all' greyhounds deserve love and kindness." - Maureen Lucas, North Carolina