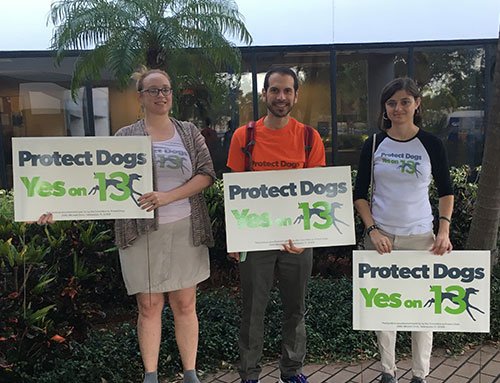 Dear Friend,
Today staff and board members of GREY2K USA Worldwide are on the ground in Florida, speaking to voters as they enter to cast a vote for Amendment 13. If passed by a margin of 60%, this humane measure will trigger the phase-out of dog racing over twenty-six months. Commercial dog racing will be prohibited on December 31, 2020.
Thankfully, dog racing is already illegal in 40 states, and since 1990, the amount of money wagered on dog racing in the Sunshine State has plummeted by 74%. Tax revenue has declined by 98% and the tracks themselves now lose a combined $34 million. Amendment 13 saves dollars and save dogs.​
Christine A. Dorchak, Esq.
GREY2K USA
P.S. Don't forget to order a
2019 Greyhound Freedom Calendar
!
This year's edition is full of photos of dogs rescued by you, our supporters, and contains a day-day-day, month-by-month timeline of our campaign victories for the greyhounds since our formation in 2001.
[facebooklike][twittertweet][googleplusone][lnkdinshare]
© GREY2K USA Worldwide. All rights reserved.
GREY2K USA Worldwide is a non-profit 501(c)4 advocacy organization located at 7 Central Street, Arlington, Massachusetts 02476. 100% of donations support our mission to end dog racing. We are grateful for personal and corporate contributions. Because GREY2K USA lobbies for greyhound legislation, contributions are not tax deductible.

Privacy Notice: It is against our policy to share, rent, sell or make our supporters' or volunteers' names or other information available to third parties. Unless disclosure is required by law, we can assure you that your personal information will be kept confidentially by this organization.
For more information please contact 781-488-3526 or visit GREY2KUSA.org