How much would you give to end dog racing? $5? $50? $100? How about $1,000?
In 2018, we challenged the biggest dog racing state in the world and won. A total of twelve Florida tracks will close by December 2020. Now, the only Arkansas track is closing, too! In July 2018, China's Canidrome was shut down and we helped airlift the survivors to homes around the world. Now, we are turning our eyes to Ireland.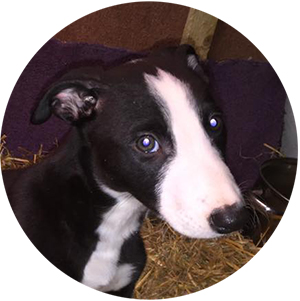 A puppy bred to race on an Irish breeding farm
Giving Roos Day offers a unique opportunity to fight dog racing on a global basis through donations that will be matched. Every dollar donated will accelerate our campaign to save greyhounds far and wide.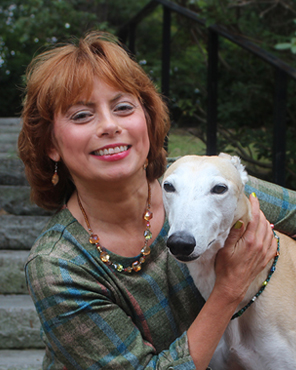 Christine A. Dorchak, Esq.
President
GREY2K USA Worldwide
P.S. Before you go, please remember to enter your dog in the First Annual Giving Roos Day Contest by next Monday the 25th at 12PM ET. Just send us a short video of your dog giving a hearty roo! Your video will be automatically entered in a contest to win a beautiful greyhound wall clock. Winners and runners up will be featured on our official Giving Roos Day webpage. Our Brooklyn has not mastered rooing just yet, but he still has a lot to say!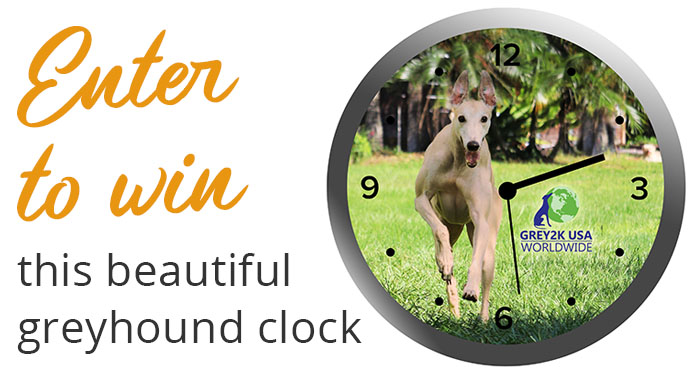 Save greyhounds by visiting smile.amazon.com and selecting the GREY2K USA Education Fund as the charity you support.
©GREY2K USA Worldwide. All rights reserved. GREY2K USA Worldwide is a non-profit 501(c)4 advocacy organization located at 7 Central Street, Arlington, Massachusetts 02476. 100% of donations support our mission to end dog racing. We are grateful for personal and corporate contributions. Because GREY2K USA lobbies for greyhound legislation, contributions are not tax deductible.

For more information please contact 781-488-3526 or visit GREY2KUSA.org.

Florida: CH35695. A COPY OF OUR OFFICIAL REGISTRATION AND FINANCIAL INFORMATION MAY BE OBTAINED FROM THE DIVISION OF CONSUMER SERVICES BY CALLING TOLL-FREE WITHIN THE STATE, 1-800-HELPFLA, OR VIA THE INTERNET AT WWW.FLORIDACONSUMERHELP.COM. Illinois: Contracts and reports regarding GREY2K USA Worldwide are on file with the Illinois Attorney General. Maryland: Documents and information submitted under the Maryland Solicitations Act are available, for the cost of copies and postage, from the Maryland Secretary of State, State House, Annapolis, MD 21401 or by calling 800-825-4510. Mississippi: The official registration and financial information of GREY2K USA Worldwide may be obtained from the Mississippi Secretary of State's office by calling 1-888-236-6167 (in MS) or 1-601-359-1350. New Jersey: INFORMATION FILED WITH THE ATTORNEY GENERAL CONCERNING THIS CHARITABLE SOLICITATION AND THE PERCENTAGE OF CONTRIBUTIONS RECEIVED DURING THE LAST REPORTING PERIOD BY GREY2K USA WORLDWIDE THAT WERE DEDICATED TO THE CHARITABLE PURPOSE MAY BE OBTAINED FROM THE ATTORNEY GENERAL OF THE STATE OF NEW JERSEY BY CALLING 973-504-6215 AND IS AVAILABLE ON THE INTERNET AT HTTP://WWW.STATE.NJ.US/LPS/CA/CHARFRM.HTM. New York: Upon request, from the Attorney General's Charities Bureau, 28 Liberty Street, New York, NY 10005, 1-212-416-8686 or www.charitiesnys.com. North Carolina: Financial information about this organization and a copy of its license are available from the State Solicitation Licensing Branch at 1-888-830-4989 (in NC) or 919-807-2214. Pennsylvania: The official registration and financial information of GREY2K USA Worldwide may be obtained from the Pennsylvania Department of State by calling toll-free, within Pennsylvania, 1-800-732-0999, or 1-717-783-1720. Virginia: A financial statement is available from the Office of Charitable and Regulatory Programs, P.O. Box 1163, Richmond, VA 23218. Washington: GREY2K USA Worldwide's financial information may be obtained from the Secretary of State at 1-800-332-4483 or 360-725-0378. West Virginia: West Virginia residents may obtain a summary of the registration and financial documents from the Secretary of State, State Capitol, Charleston, West Virginia 25305. REGISTRATION IN THE ABOVE STATES DOES NOT IMPLY ENDORSEMENT, APPROVAL, OR RECOMMENDATION BY THE STATE.