The day brought wonderful and inspiring presentations from individual advocates who travelled from six countries! They joined courageous Irish lawmakers Ruth Coppinger, Maureen O'Sullivan and Paul Murphy in offering smart strategies to defeat dog track greed and cruelty. Ongoing campaigns in Australia, Great Britain, Ireland and Scotland were discussed, followed by an analysis of GREY2K's successful 2018 campaign to phase out commercial dog racing in Florida.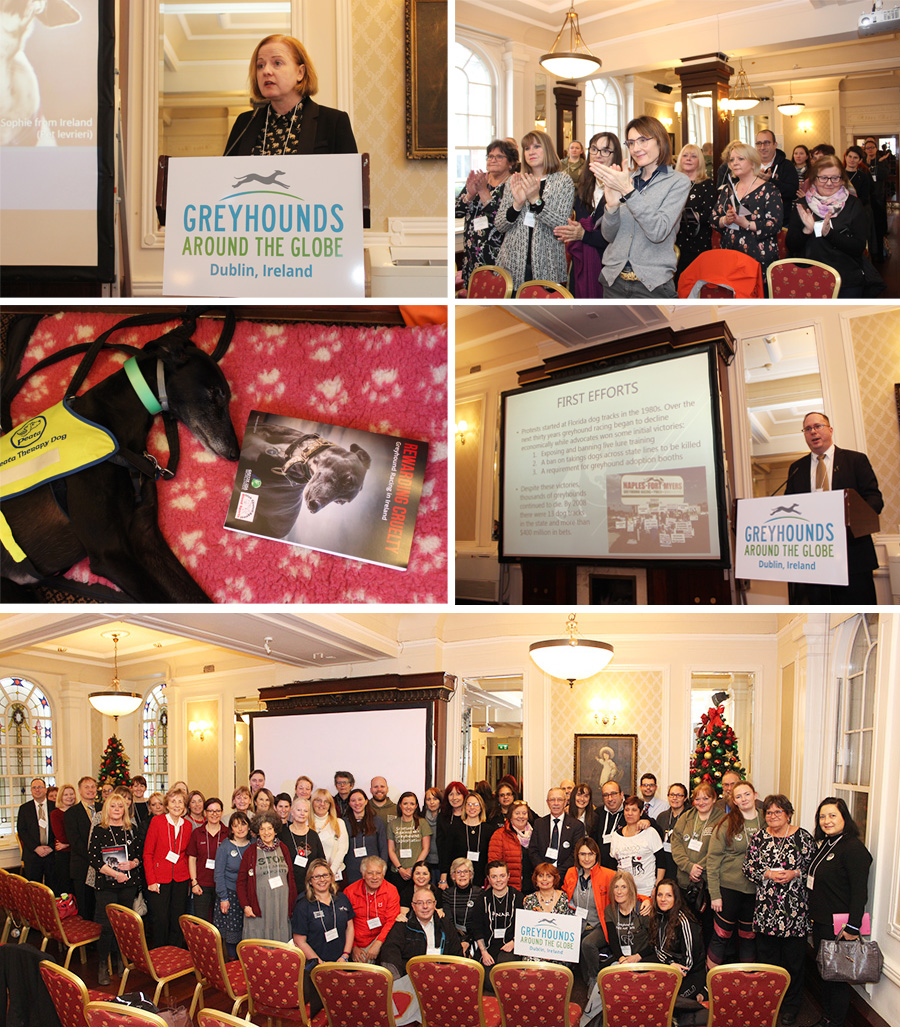 We were all treated to a wonderful lunch and then achievement awards were presented to Albano Martins of ANIMA Macau, Stefania Traini of Pet Levrieri and Marion Fitzgibbon of Limerick Animal Welfare for their commitment to saving greyhounds worldwide.
Our next big move will be to join forces with Irish lawmakers who are ready to help! Please sign our petition to all members of the Oireachtas (Parliament) and ask them to support a phase-out of dog racing. Each member has received a copy of our new report so now is the perfect time to reach out!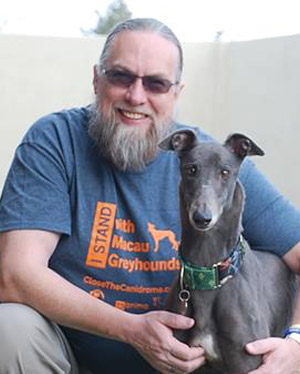 Eric Jackson
Vice President
GREY2K USA Worldwide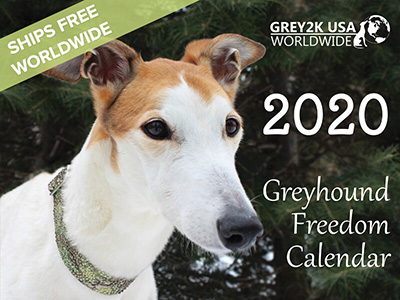 Save greyhounds by visiting smile.amazon.com and selecting the GREY2K USA Education Fund as the charity you support.
©GREY2K USA Worldwide. All rights reserved. GREY2K USA Worldwide is a non-profit 501(c)4 advocacy organization located at 7 Central Street, Arlington, Massachusetts 02476. 100% of donations support our mission to end dog racing. We are grateful for personal and corporate contributions. Because GREY2K USA lobbies for greyhound legislation, contributions are not tax deductible.

For more information please contact 781-488-3526 or visit GREY2KUSA.org.

Florida: CH35695. A COPY OF OUR OFFICIAL REGISTRATION AND FINANCIAL INFORMATION MAY BE OBTAINED FROM THE DIVISION OF CONSUMER SERVICES BY CALLING TOLL-FREE WITHIN THE STATE, 1-800-HELPFLA, OR VIA THE INTERNET AT WWW.FLORIDACONSUMERHELP.COM. Illinois: Contracts and reports regarding GREY2K USA Worldwide are on file with the Illinois Attorney General. Maryland: Documents and information submitted under the Maryland Solicitations Act are available, for the cost of copies and postage, from the Maryland Secretary of State, State House, Annapolis, MD 21401 or by calling 800-825-4510. Mississippi: The official registration and financial information of GREY2K USA Worldwide may be obtained from the Mississippi Secretary of State's office by calling 1-888-236-6167 (in MS) or 1-601-359-1350. New Jersey: INFORMATION FILED WITH THE ATTORNEY GENERAL CONCERNING THIS CHARITABLE SOLICITATION AND THE PERCENTAGE OF CONTRIBUTIONS RECEIVED DURING THE LAST REPORTING PERIOD BY GREY2K USA WORLDWIDE THAT WERE DEDICATED TO THE CHARITABLE PURPOSE MAY BE OBTAINED FROM THE ATTORNEY GENERAL OF THE STATE OF NEW JERSEY BY CALLING 973-504-6215 AND IS AVAILABLE ON THE INTERNET AT HTTP://WWW.STATE.NJ.US/LPS/CA/CHARFRM.HTM. New York: Upon request, from the Attorney General's Charities Bureau, 28 Liberty Street, New York, NY 10005, 1-212-416-8686 or www.charitiesnys.com. North Carolina: Financial information about this organization and a copy of its license are available from the State Solicitation Licensing Branch at 1-888-830-4989 (in NC) or 919-807-2214. Pennsylvania: The official registration and financial information of GREY2K USA Worldwide may be obtained from the Pennsylvania Department of State by calling toll-free, within Pennsylvania, 1-800-732-0999, or 1-717-783-1720. Virginia: A financial statement is available from the Office of Charitable and Regulatory Programs, P.O. Box 1163, Richmond, VA 23218. Washington: GREY2K USA Worldwide's financial information may be obtained from the Secretary of State at 1-800-332-4483 or 360-725-0378. West Virginia: West Virginia residents may obtain a summary of the registration and financial documents from the Secretary of State, State Capitol, Charleston, West Virginia 25305. REGISTRATION IN THE ABOVE STATES DOES NOT IMPLY ENDORSEMENT, APPROVAL, OR RECOMMENDATION BY THE STATE.