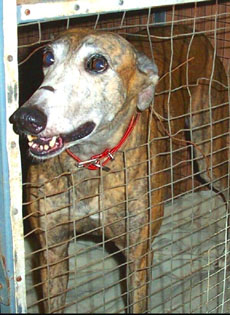 Friends,
One of the largest race-fixing schemes in the history of the commercial dog racing industry has been exposed in Alabama. Now we need your help to make sure that those who are involved are held responsible!
The race-fixing allegations first surfaced on September 19, when a tip from GREY2K USA led the Mobile Press-Register to report that District Attorney John Tyson was investigating allegations of cheating at Mobile Greyhound Park.
The Mobile Racing Commission, which is responsible for preventing illegal gambling at Mobile Greyhound Park, responded by dismissing the allegations. Commission Chairman Eddie Menton called the accusations "far-fetched" and said he wanted the public to know that "it's safe to go to the dog track and bet."
Two weeks later, thirteen people were charged with felony counts of illegal gambling, and now face up to ten years in prison. According to prosecutors, these individuals scammed at least $67,000 by drugging dogs and placing illegal bets on races in 2005 and 2006.
In a guest column on Sunday in the Mobile Press-Register, GREY2K USA executive director Carey Theil pointed out that this scheme apparently was able to operate at Mobile Greyhound Park for at least two years right under the noses of Mobile Racing Commission regulators. He called on Governor Bob Riley to launch an independent investigation to find out how this regulatory failure could have occurred. You will find a copy of this guest column below.
Please send a letter to Governor Bob Riley today and ask him to launch an independent investigation of the Mobile Racing Commission.
Tell him that we need track regulators who will take their jobs seriously, and work for the taxpayers instead of track owners.
You can reach Governor Riley at:
Alabama Governor Bob Riley
State Capitol
600 Dexter Ave. Montgomery, AL 36130
334-353-0004 (fax)
E-mail Governor Bob Riley
Below, you will find a sample letter to use as a guide in writing your own letter. Please write your letter to Governor Riley today!
For the greyhounds,
Carey Theil & Christine Dorchak
GREY2K USA
PO Box 442117
Somerville, MA 02144
(866) 247-3925