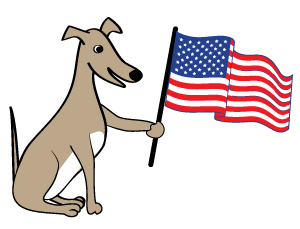 Do you know how many tracks closed this year? Read all about our progress!
Now you can help pass the Greyhound Protection Act and close the rest! Please give a generous gift today.
When you make a single donation of $75 or sign up as a new monthly donor of $25 or more, we will send you our Greyhound Freedom Bracelet Set which includes a sparkling red white and blue bracelet with a silver greyhound charm plus a blue "Save the Greyhounds" wristband!
Small or large, every dollar makes a big difference for greyhounds.