Passing Laws to Help Greyhounds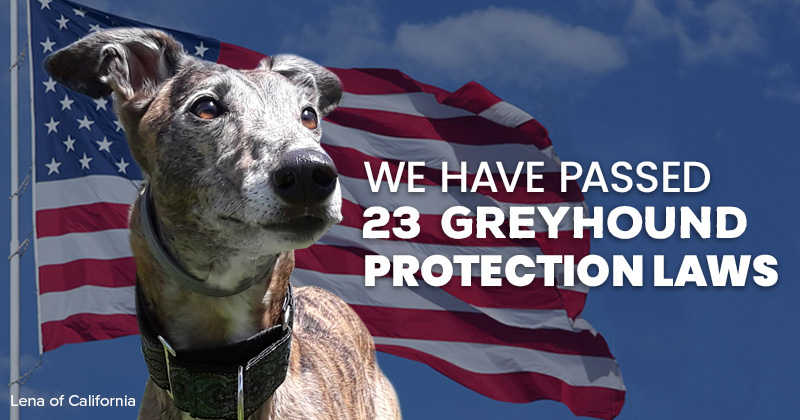 Since our formation in 2001 we have passed twenty-one major greyhound protection laws including dog track prohibitions in Arizona, Colorado, Florida, Guam, Massachusetts, New Hampshire, Oregon, and Rhode Island. Greyhound racing is now illegal in forty-two states.
We are currently working to pass a federal bill to outlaw greyhound racing in the United States that has earned the support of more than 100 Congressional Cosponsors.
Exposing Greyhound Cruelty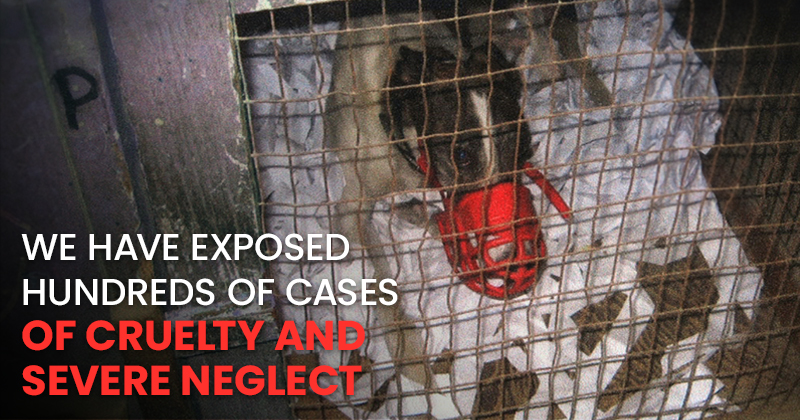 Our research has led to the exposure of hundreds of media documented cases of greyhound cruelty and neglect, including dogs testing positive for cocaine, dogs suffering terrible injuries and dogs experiencing severe neglect at racing kennels. GREY2K USA Worldwide has investigated greyhound racing throughout the world and reported on dog racing in Macau, Vietnam, Australia, New Zealand, Argentina, the United Kingdom, and Mexico.
GREY2K USA Worldwide maintains an online database of greyhound disciplinary rulings, the largest compilation of such data in the world. We have also published seminal policy reports on greyhound racing in the United States, United Kingdom and Ireland.
Defeating Attempts to Perpetuate Dog Racing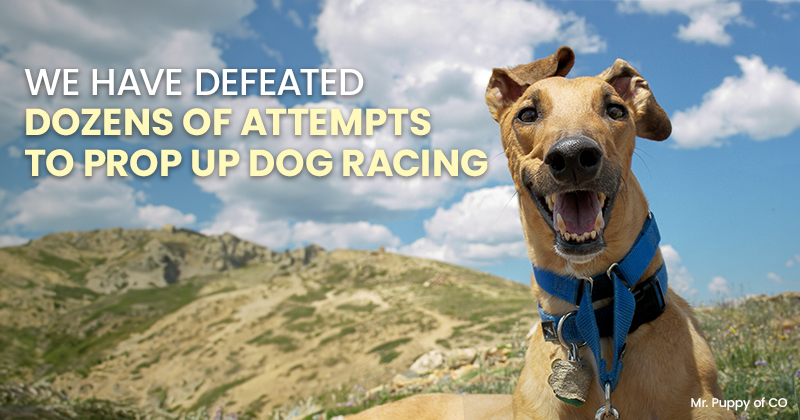 We have defeated dozens of legislative attempts to subsidize dog racing with other forms of gambling, and blocked new tax breaks for dog tracks. We have also helped prevent the expansion of commercial dog racing to countries such as Jamaica, the Philippines and South Africa.
Pressure Leads to Track Closures and Industry Decline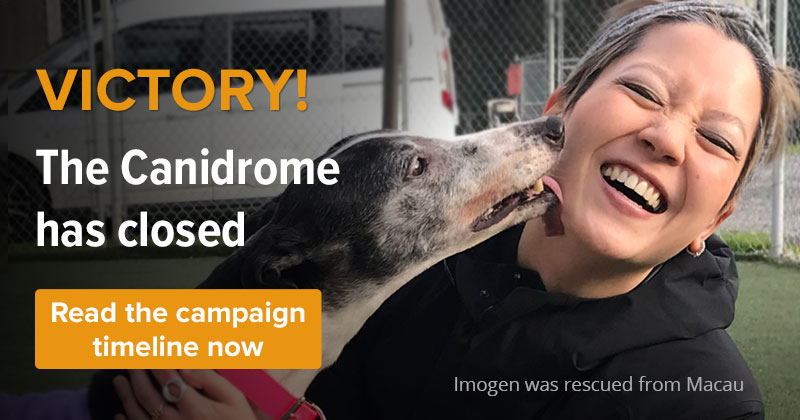 Our persistent pressure has contributed to the closure of dozens of American dog tracks. At its peak there were nearly 70 dog tracks in the United States. Today, there are only two tracks remaining, both in West Virginia. Since our formation in 2001, forty-six US tracks have ended dog racing and most have closed entirely.
We also led an international campaign that successfully shuttered the only legal dog track in China. The Canidrome was forced to close in 2018 and hundreds of dogs were given the second chance they deserved. Until our rescue operation began with ANIMA and Pet Levrieri of Italy, no dog had ever gotten out alive from this terrible place.
Since our formation, gambling on dog racing in the United States has declined by nearly 80% and greyhound breeding has declined by nearly 85%.
Fighting for Greyhounds at the Ballot Box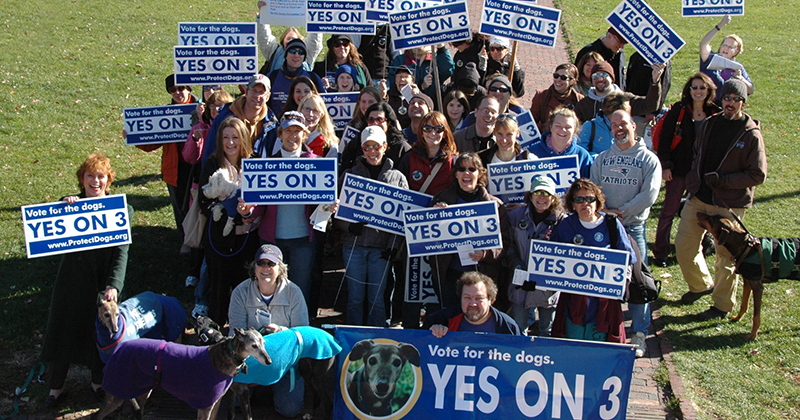 GREY2K USA championed the first ballot questions in history to outlaw dog racing. Question 3, the Greyhound Protection Act of Massachusetts, passed in 2008 by a margin of 56% to 44%. In 2018, we led a campaign to pass an Amendment to the Florida Constitution that outlawed greyhound racing, shuttering a dozen operational tracks.
Since 2002, we have also endorsed more than a hundred greyhound friendly candidates across the country, with a success rate of more than 80% on election day.
---
46 U.S. tracks have ended dog racing and most have closed entirely
St. Croix Meadows (WI)

Pueblo Greyhound Park (CO)

Apache Greyhound Park (AZ)

Multnomah Greyhound Park (OR)

Dilapidated Multonmah Greyhound Park Sign

Plainfield Greyhound Park (CT)

Geneva Lakes Kennel Club (WI)

Geneva Lakes Kennel Club being destroyed

Post Time (CO)

Shoreline Star (CT)

Cloverleaf Kennel Club (CO)

Overgrown Cloverleaf Kennel Club

Jacksonville Kennel Club (FL)

Tampa Greyhound Park (FL)

Protest at Tampa Greyhound Park

Wichita Greyhound Park (KS)

Corpus Christi (TX)

Mile High (CO)

The Woodlands (KS)

Hinsdale Greyhound Park (NH)

Broken down Hinsdale Greyhound Park

The Lodge at Belmont (NH)

Seabrook Greyhound Park (NH)

Wonderland Greyhound Park (MA)

Wonderland Greyhound Park sign being destroyed

Guam Greyhound Park (Guam)

Phoenix Greyhound Park (AZ)

Demolished Phonenix Greyhound Park Art Reyes

Raynham Park (MA)

Broken down Raynham Park

Dairyland Greyhound Park (WI)

Dairyland Greyhound Park in July 2020 Muriel Wilder

Twin River (RI)

VictoryLand (AL)

Jefferson County Kennel Club (FL)

Bluffs Run (IA)

Tucson Greyhound Park (AZ)

Mobile Greyhound Park (AL)

Melbourne Greyhound Park (FL)

Hollywood Greyhound Park (FL)

Flagler Greyhound Track (FL)

No Slots protest signs at Flager Greyhound Track

Pensacola Greyhound Track (FL)

Valley Race Park (TX)

Sarasota Greyhound Track (FL)

Overgrown Sarasota Greyhound Track

Ebro Greyhound Park (FL)

Daytona Beach Kennel Club (FL)

Daytona Beach Kennel Club protest

Sanford Orlando Kennel Club (FL)

Birmingham Race Course (AL)

Naples-Ft. Myers Greyhound Track (FL)

Protest at Naples-Ft. Myers Greyhound Track

Gulf Greyhound Park (TX)

Orange Park Kennel Club (FL)

Derby Lane (FL)

Palm Beach Kennel Club (FL)

Iowa Greyhound Park

Southland Park (AR)