Tips for Tabling
You have identified a "greyt" location, requested materials and obtained permission to set up an outreach table for the greyhounds. This is just the beginning! Here are some helpful things to know about hosting a successful table.
Create an attractive and informative display
Be sure to create an attractive and organized display on a cheerful tablecloth. Hang a banner and adorn your table with our colorful signs. It is important to offer both informational and fun items, so please supplement brochures and flyers with freebies like buttons, stickers and wristbands.
A jar of lollipops for kids and a bowl of biscuits for canine visitors make nice additions to your greyhound material. If you work with or support a local rescue group, please ask for permission to distribute their adoption materials as well.
Wear a greyhound t-shirt
Wear your heart on your sleeve and help people know who you are fighting for. If you do not already have a greyhound t-shirt check out our shop page.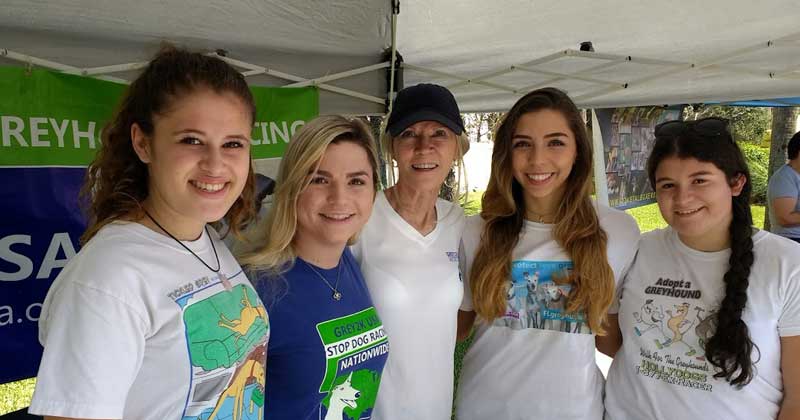 Kathy Pelton and a team of volunteers at Woofstock in Florida. (Ken Pelton)
Greet people
Believe it or not, people tend to be shy and may not approach you on their own. Do not sit back and hide behind your table! Instead, stand next to or in front of your display and greet people in a friendly manner as they come by.
Suggested greetings include "Would you like to make a donation to help greyhounds?" or simply, "Would you like information on our work to help greyhounds?" Remember, offering lollipops to kids or dog biscuits to their canine companions can really help break the ice.
Talk abut GREY2K USA Worldwide
Let people know that you represent GREY2K USA Worldwide and our efforts to promote adoption and end greyhound racing. Since our formation, the dog racing industry has been cut in half and thousands of lucky dogs have been given the second chance they deserve. We are now working very hard to close the rest. You can learn more about GREY2K USA by visiting our mission and victories page.
Gather signatures and request donations
Invite people to sign our petition against dog racing and make a donation if they can. The greyhounds need everybody's help and we can all be a part of this successful effort. If you have not requested a formal donation jar, then please just put out a bowl or dish with a sign that reads, "Please make a donation today. No matter how much you give, you will be a hero to the greyhounds!" Send in the signature pages and donations to us after your event.
Promote greyhound adoption
Anyone who would like to adopt a greyhound should be invited to call our toll-free number at 866-2GREY2K. We will be happy to connect prospective adopters with local adoption groups. You can also refer them to our page on greyhound adoption where we share useful information about greyhounds and list greyhound rescues around the world. If you have permission to offer materials from a local group in your area, please do so!
Be prepared
Please read the fact sheets and other materials on our website so you will know as much about greyhound racing as possible in advance of your event. If someone has a question you cannot answer, explain that you are a volunteer and recommend that the person consult our website or call us at 866-2GREY2K.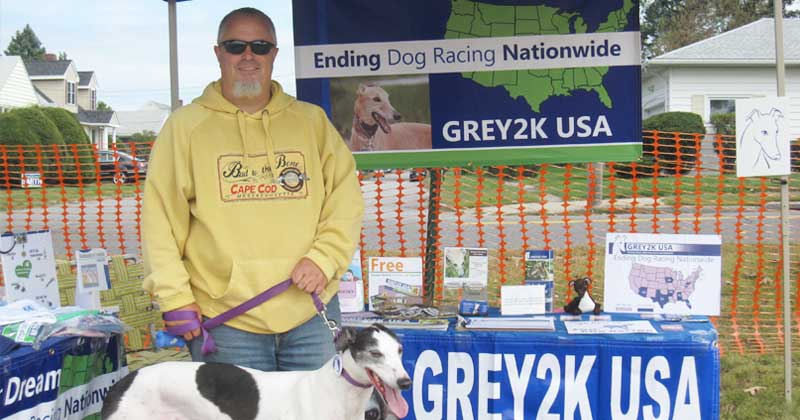 Darren with his greyhound at the Pet Rock Festival with his greyhound, Alaska. (GREY2K USA Worldwide)
Bring your dog
Greyhounds and other dogs are magnets for attention. Depending on the environment, please consider bringing your Best Friend along. Whether your dog is a greyhound or not, he or she will make tabling more fun for you and your visitors.
Have fun!
Meeting new people and letting them know about the greyhounds is fun! Thanks for volunteering to help our campaign.
You are the face of greyhound advocacy
Always remember that you are the face of greyhound advocacy. By looking well and speaking well, you will represent the greyhounds effectively and persuasively. If you have any questions, please contact us at info@GREY2KUSA.org.