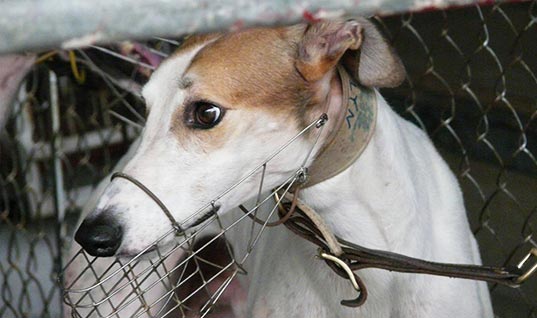 Brooklyn's Story:        
Brooklyn last raced on May 5, 2012. He fell, was injured, and finished sixth. According to a translation of the track's website, his "hind leg" was "cut wounded on web." Subsequently, an update was posted on May 11 saying that Brooklyn's injury had been "cured." According to the Macau government Brooklyn is still alive.
At the Canidrome Racetrack in Macau, an average of 30 greyhounds are killed every month.  These dogs are then replaced by greyhounds that are imported from Australia.  The track has no adoption program.
GREY2K USA Board member Charmaine Settle visited the Canidrome in October 2011 to inspect the track.  During her visit, she took a photograph of a greyhound we believe is named Brooklyn.  Brooklyn was born on December 8, 2008 and is four years old.  He is white, red and fawn colored.
Sadly, unless Brooklyn receives the help he deserves he will eventually be killed.
We intend to rescue Brooklyn. Already Animals Asia and Greyhound Rescue Australia  have stepped up to assist us.  By helping him find a loving home, we can also explore the challenges involved in helping all of the Canidrome greyhounds.  Our effort to help Brooklyn is a test case.
Meanwhile, Animals Australia and multiple other international groups have called for a complete end to the export of greyhounds from Australia.  Ms. Maneka Gandhi of India has sent a letter to the Australian Parliament supporting a ban as well. Plus, Max Greenberg, a young man from Hong Kong, held a rally and has written an open letter to all dog lovers asking them to help end greyhound racing at the Canidrome. In July, Kris Farley of Greyhound Freedom in Australia created this wonderful video, which has now been shown to officials in Macau. This is a real team effort!  
We know that rescuing Brooklyn will not be easy.  As a first step, we have sent a letter directly to the Canidrome asking for its cooperation.  So far, the Canidrome has not responded to our request. Now we have sent a second letter to Macau's Chief Executive Dr. Chui Sai On, asking him to force the Canidrome to introduce an adoption program.
UPDATE: DECEMBER 2012
In November, we worked with Animals Australia, Animals Asia to send a letter to every major animal protection organization in the world. We urged all humane groups to join together as one unified voice, and help intensify the pressure on the Canidrome.
The response to our call to action has been overwhelming. Dozens of humane groups have agreed to help, including including Humane Society International, the International Fund for Animal Welfare Australia, SPCA Auckland, GreytExploitations, the League Against Cruel Sports, the National Greyhound Adoption Program, Greyhound Companions of New Mexico, Last Chance for Animals, Greyhound Rescue Holland and World Animal Net. These compassionate organizations are directly contacting the governments of Macau and Australia, and asking them to close the Canidrome and end the export of greyhounds from Australia to Macau.
Finally, we have sent a letter to the Macau Gaming Inspection and Coordination Bureau and asked it to determine whether Brooklyn is still alive. Seven months have passed since he last raced, and while we hope he is still alive he may not be. Once we hear from the government, we will share any news we receive on his current status.
UPDATE: JANUARY 2013
According to the Macau government, Brooklyn is still alive.
UPDATE: OCTOBER 2013
GREY2K USA, Animals Asia and Animals Australia sent a new letter to Macau's Chief Executive demanding the end to dog racing at the Canidrome and the release of all the greyhounds to local shelter, ANIMA. A "Missing" poster for Brooklyn was circulated throughout Macau and also published in the local magazine Pets and Hugs, along with our letter to Dr. Chui Sai On.
UPDATE: NOVEMBER 2013
GREY2K USA President and General Counsel Christine Dorchak sent a letter to Australian Agriculture Minister Barnaby Joyce asking him to prohibit the export of Australian greyhounds to the Canidrome.
UPDATE: MARCH 2014
The Asia for Animals Coalition urges Macau Chief Executive Dr. Chui Sai On to stop dog racing at the Canidrome, for the sake of the dogs and for the sake of community values.  The AfA Coalition consists of more than a dozen international organizations working for the protection of all animals in Asia.
UPDATE: APRIL 2014
A joint letter from attorneys for Animals Australia, GREY2K USAWorldwide and Animals Asia was sent to Australian Agricultural Minister Barnaby Joyce urging him to join with trade group Animals Australasia in banning the export of greyhounds to Macau.